Resting up from Friday & Saturday. No school for g.k. on Friday so they were here all day. They did real good. It was a little 'nippy' out, but they had fun gathering some leaves & covering each other up, then "scaring" me by jumping out of the pile - hehehe. Of course A.J. found a new use for the snow shovel. Got some great pics- can't wait to do some lay-out pics with the photos, but first will share a few pictures of their fun day.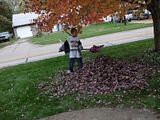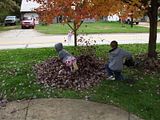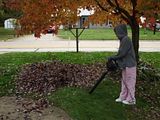 Yesterday was a fun-filled & interesting day. I went to Hartville to my friend's house & another friend that lives near there in Canton came over we did some rubberstamping - started to work on our Christmas cards. We "broke" for lunch. Went to Hartville Kitchen but the line & wait was too long, or so we thought at the time, so we went to the other side of town. WHOA- what a mistake. The service was horrrible. It took us over 2 hours to be waited on, get our food, then get my bill corrected.Ms.P. talked very nice to the owner about the problem- but don't think it did any good. But hey- we did have fun, the food was o.k. & we learned- not to go there again. Something we can remember & laugh about & joke about now, that it's over with.
This card that I did, (thanks to C.G. a fellow consultant for the idea)... Everything is C.T.M.H.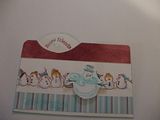 This card is a technique that I learned from the Adventures In Stamping convention that my niece & I went to a few wk. back. It was so much fun to do & of course the photo does not capture it the way it should.
From C.T.M.H. : Black cardstock, White Daisy cardstock & inkpad; Feathery Flakes stampset ( love-love-love this new stampset)' Liquid Glass, Prisma Glitter.
Non C.T.M.H. items:
Cool Grey & Pale Blue Copic inks
Opalite pigment reinker
Clear Acetate ( small square )
Snowflake punch.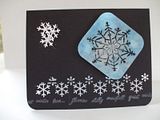 until the next time...