Thanksgiving is drawing near- a time to reflect & be thankful for what we have & not what we want.
I have so much to be thankful for -
my freedom to worship God
my freedom
health
home
food
family
friends
& special friends that are like family
the list could on, but I will stop with this for now.
From a craft group that I belong to - this link was posted & I want to share it here - take time to watch it...
http://www.cpmsglife.org/tg/2006tdm1.html
This is a 6X6 recipe that I did- all papers are C.T.M.H.
Yes, I have made the cake & it is yummy & oh-so rich.
Enjoy...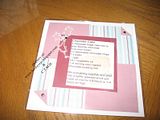 until the next time...